If you need to release stress, negativity , purify your space or just a total cleanse our Sacred Sage Smudge Sticks are for you.

💨 Sacred Sage Smudge sticks are thought to banish negative energy, not only on the physical level, but also emotionally, mentally and spiritually. It has a very aromatic, sharp and stimulating smell, and its action works on all the senses.
*USE FOR YOGA AND MEDITATION: Smudging with sages is a powerful tool in spiritual practice. Burning sage improves awareness and focus. It commonly used to practice mindfulness and transcendental meditation.
 🌿 All our products are derived from Mother Nature, no two are ever identical. The photos are representative of what you'll receive, but the coloring and size of each stick is slightly different. You will not receive the same, exact stick from the photo, but one extremely similar.
Koshajay Essentials takes great pride in all the products we sell, but more so in our white sage smudge sticks. This beautiful sage is handpicked from the wild using a method that promotes natural regrowth. The leaves are dried and hand tied by local artisans. It is a natural process that has been repeated for hundreds of years. Our white sage smudge sticks are used for ritual cleansing as well as many other spiritual uses. They are best burnt using small incense coals to promote a longer lasting effect, but they can be used in many different ways. We know you will enjoy this lovely product.
Dislclaimer
The statements on this site have not been approved by the Food and Drug Administration.

Any information that may be found anywhere on this site is not presented as a substitute, nor intended to be a substitute for medical advice, treatment or diagnosis.

4 inches of 100% Sage with twine binding and a saging/smudging feather.
History :
White Sage (Salvia apiana) is a plant native to high desert ecosystems and grows prevalently in California and in the Mountain West. For hundreds of years, White Sage has been considered a sacred, cleansing, purifying, and protective plant. The leaves of the plant are a whitish-green, and if you rub the fresh leaves between your thumb and forefinger, a refreshing, cleansing scent is released.Native Americans started the tradition of using White Sage, also known as Sacred Sage, to release lingering energies. White Sage has been used in ceremonies to seek blessings of health and prosperity, release spirits, encourage protection. Sacred Sage can amplify any clearing and protective techniques that you are already using. As a plant and a living being, Sage has a Spirit. The Spirit of Sage is also dedicated to offering protection, blessings, and clearing.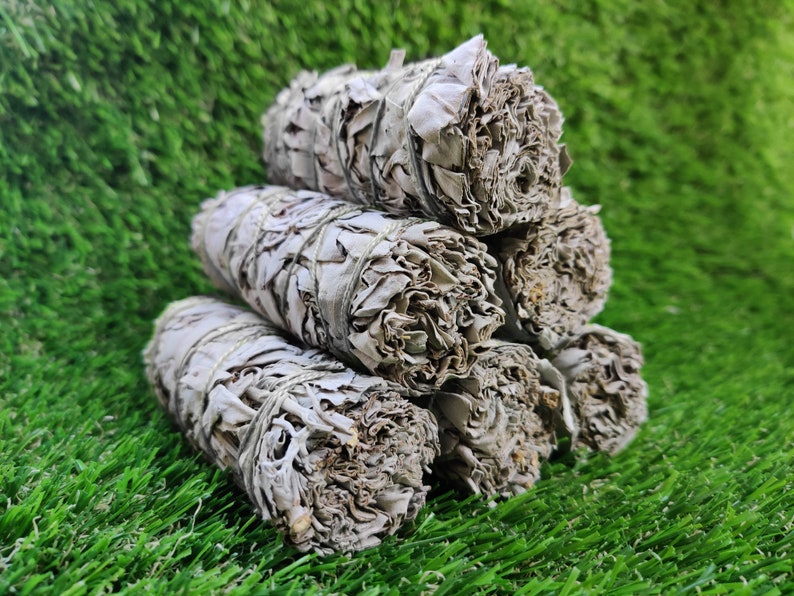 How to use it
Locate a bowl or Abalone shell which you will use to hold the burning sage over. You may also want to prepare a small cup of water to extinguish the smoke after the ritual.
Next, open most of the doors and windows in your house.
Light the Sage , and when it catches fire, blow it out and allow the embers to start to smoke.
Set your intention for each room.  Say a short prayer of cleansing such as,"I cleanse this room of any impurities, negativity, or anything that does not support the people that live here."

Slowly walk around each room, waving the white sage so its smoke drifts into corners, along walls, around windows, and along ceiling lines.  As you do, visualize the smoke absorbing negativity and problems from those who were in the space before you. Watch the smoke float out the windows, and imagine that negative energy flowing out of your space, making room for positive, fresh energy. YOUR ENERGY!

After you've blessed every room, give yourself a sage shower.  Cup your hands over the smoke and"wash"

 

your face with it, then wave it all over your body as you would in a regular shower.  Visualize any residual negativity sailing out of your body, out of your home, and into oblivion.